"Digital creation, rised to that level of technical quality
and emotion and because it is now able to 'make universally
transmissible what is inexpressible', is really an art in
the sense of Kant, and will be the more contemporary art
thanks to creators like Hugo Arcier."
Jean-Luc Chalumeau, art critic and art historian.

Hugo Arcier is a French digital artist (actually he is an artist in a digital world) who uses 3D computer graphics in various ways: videos, prints and sculptures.
Devoted first to special effects for feature films, he has worked on numerous projects with prestigious directors such as Roman Polanski, Alain Resnais or Jean-Pierre Jeunet.
This profession has allowed him to gain a deep understanding of digital tools – in particular 3D graphic images – which is essential for the birth of his projects.
He regularly does commissioned works that uses computer graphics, like in 2012 the album cover "Cruel Summer" for Kanye West.
Along with commercial work, he develops plastic and reflective works that meticulously dissect the specificities of this new medium, 3D computer graphics.
He develops increasingly ambitious projects, initially only films and now other forms like prints, sculptures, and installations, such as the "Nostalgia for Nature" series.
Also addressing design through 3D printing, he is the creator of innovative objects (generative design from connected applications, hacking industrial furniture….)
His artistic works have been featured in numerous festivals (Elektra, Videoformes, Némo, etc.), galleries (Magda Danysz, Plateforme Paris, etc.), art venues (New Museum NY, New Media Art Center of Sichuan Fine Arts Institute, Le Cube, Okayama Art Center, Palais de Tokyo, etc.) and contemporary art fairs (Variation, Slick) around the world, making him a recognizable figure in the world of digital art.

Hugo Arcier is "Chevalier de l'ordre des Arts et des Lettres" 2016.
He is active member of the artist-run space Plateforme Paris.
He is represented, as a director, by Bent Design Lab (US, Canada, China).
Copyright managed by ADAGP.



"I have always been excited by the link between art and sciences. My practice of art has always been through the filter of science, through the medium of IT and 3D.
I like it when works are the fruit of research, when they have been developed through a complex process, through the resolution of technical issues.
The possibility of using industrial techniques for artistic ends interests me very much. Moreover, many artistic innovations often come from the emergence of new technologies (screen-printing for Warhol, video for Nam June Paik, plastics and rare gases for Kowalski, polyester inclusions for Arman, expansions and compressions for César, neon tubes for Dan Flavin….).
The sense of research, the concept of work, of know-how, to me is strongly linked to the painters of the 15th and 16th centuries. It is also interesting to note that these Renaissance painters were at once artists, scientists and mathematicians. It was they who introduced perspective, for example, or the theorisation of it in any case. They already had this desire to represent a space in three dimensions. I have the feeling that the computer-generated image as we know it today is a direct continuation of this movement, a parallel artistic path which has developed at the margins of the modernist currents – I am thinking particularly of ready made of performance art.
I believe today there is not just one but multiple artistic movements. Contemporary artists can freely project themselves in the history of art and develop their own way.
I consider my work classical but modern at the same time, in terms of the techniques and technologies used along with the issues raised.
My artist's statement is not post-moderne, it is alter moderne." Hugo Arcier.
EXHIBITIONS
2016
Beirut Biennale for the image (Beirut, Liban)
"Travelogue", Mantova (Italy)
"Arte es digital, digital es arte" Vostell Museum, Caceres (Spain)
"Fantômes numériques", solo show, Lux (Valence, France)
"Paper-thin", virtual museum
2015
"The fate of image", Sichuan Fine Arts Institute (Chongqing, China)
"Lumières – Fréquences – Essences" (Evry, France)
"Cutting Edge Animation" (São Paulo, Brazil)
"Adrenalina" (São Paulo, Bazil)
2014
"AV@AR 3.0 The Art of French New Media" (Beijing, China)
"Lighting, Frequency, Essence" (Chengdu, China)
"Display" (Wuhan, China)
"Territoires Incertains", Plateforme (Paris, France)
"Imaginary : Aesthetics of the virtual and perception of the reality", Group Show, PrimoPiano LivinGallery, (Lecce, Italy)
2013
Show Off Art Fair (Paris, France)
"Little Big Crunch", group show, Plateforme gallery (Paris, France)
ON/Gallery (Beijing, China)
Lille Art Fair (Lille, France)
"Nostalgie du réel" Solo Show at Le CUBE, (Issy-Les-Moulineaux, France)
2012
"Noreover", Plateforme (Paris, France)
2011
Louis V E.S.P. gallery (Brooklyn NY, USA)
2010
"Little Big Bang", Plateforme (Paris, France)
Parcours d'art Carne (Paris, France)
2009
Videobox (France – Belgique)
2008
Okayama Art Center (Japan)
Celal Gallery (Paris, France)
2007
ADN Gallery (Barcelone, Spain)
"Sous influence", Magda Danysz Gallery (Paris, France)
2006
Slick Art Fair(Paris, France)
Show Off Art Fair(Paris, France)
Cube Art Center(Issy-les-Moulineaux, France)
Video'appart (Paris, France)
2004
Artcore Gallery (Paris, France)
FESTIVALS / SCREENINGS
2015
Polytechnic Museum (Moscow, Russia)
VIS (Vienna, Autria)
Videoformes (Clermont-Ferrand, France)
2014
Multiplicidades (Rio, Brasil)
ShortVisions 1. International Short Film Festival (Ningbo, China)
B.I.M. Biennale de l'image en mouvement (Buenos Aires, Argentina)
Austrian Film Museum, "Penetrating surfaces" curated by Robert Seidel. (Vienna, Austrian)
Videoformes (Clermont-Ferrand, France)
2013
Seoul International NewMedia Festival (Seoul, Korea)
Ars Electronica, (Linz, Autria)
Anima Mundi (Rio de Janeiro and São Paulo, Brazil)
Videoakt International Videoart Biennial (Barcelona, Spain)
Elektra (Montreal, Québec)
2012
New Museum (New York, USA)
Videoformes (video and new media in contemporary art) (Clermont-Ferrand, France)
2011
Atopic Festival (Paris, France)
Above Ground Animation (Los Angeles, USA)
Toronto Urban Film Festival (Toronton, Canada)
2010
Video Art & Experimental Film Festival (New York, USA)
2009
Yo Veo Experimental Cinema (New York, USA)
2008
Paris Tout court (Paris, France)
2006
International Short Film Festival Leuven (Leuven, Belgique)
VAIA, V Mostra Internationale d'Art Vidéo d'Alcoi (Valencia, Spain)
Bitfilms festival (Germany)
Festival du nouveau cinéma de Montréal (Québec, Canada)
Sao Paulo International Short Film Festival (Sao Paulo, Brazil)
InVideo (Milano, Italia)
Darlight festival (Ireland)
Festival Némo (Paris, France)
2005
Backup festival (new media in film) (Germany)
Festival Manifesto (Toulouse, France)
Videoformes (video and new media in contemporary art) (Clermont-Ferrand, France)
EDITIONS / BROADCASTS
12 of my films broadcast on Numéro 23 French tv channel
My film "Les 5 siamoises" edited in "Talents" dvd collection
5 of my films broadcast on Souvenirs From Earth tv channel
COMMISSIONED WORKS
Feature film visual effect
Carnage, Roman Polanski
Vous n'avez encore rien vu, Alain Resnais
The Ghost Writer, Roman Polanski
Astérix aux Jeux olympiques, Frédéric Forestier, Thomas Langmann
L'Auberge rouge, Gérard Krawczyk
The Last Legion, Doug Lefler
Angel, François Ozon
Taxi 4, Gérard Krawczyk
Hannibal Rising, Peter Webber
The Fall, Tarsem Singh
Jean-Philippe, Laurent Tuel
Renaissance, Christian Volckman
L'Avion, Cédric Khan
Live and become, Radu Mihaileanu
Un long dimanche de fiançailles, Jean-Pierre Jeunet
Human Nature, Michel gondry
Print
Kanye West G.O.O.D. music cover
Nespresso
Playstation
Campari
Commercial
Shiseido
Paco Rabanne
Lancaster
Coca-cola
Renault
Peugeot
LU
VISA
TV Ident
Le Petit Journal, Canal +
M6 (ident)
Virgin 17 (ident)
Star channel (ident)
Star India (ident)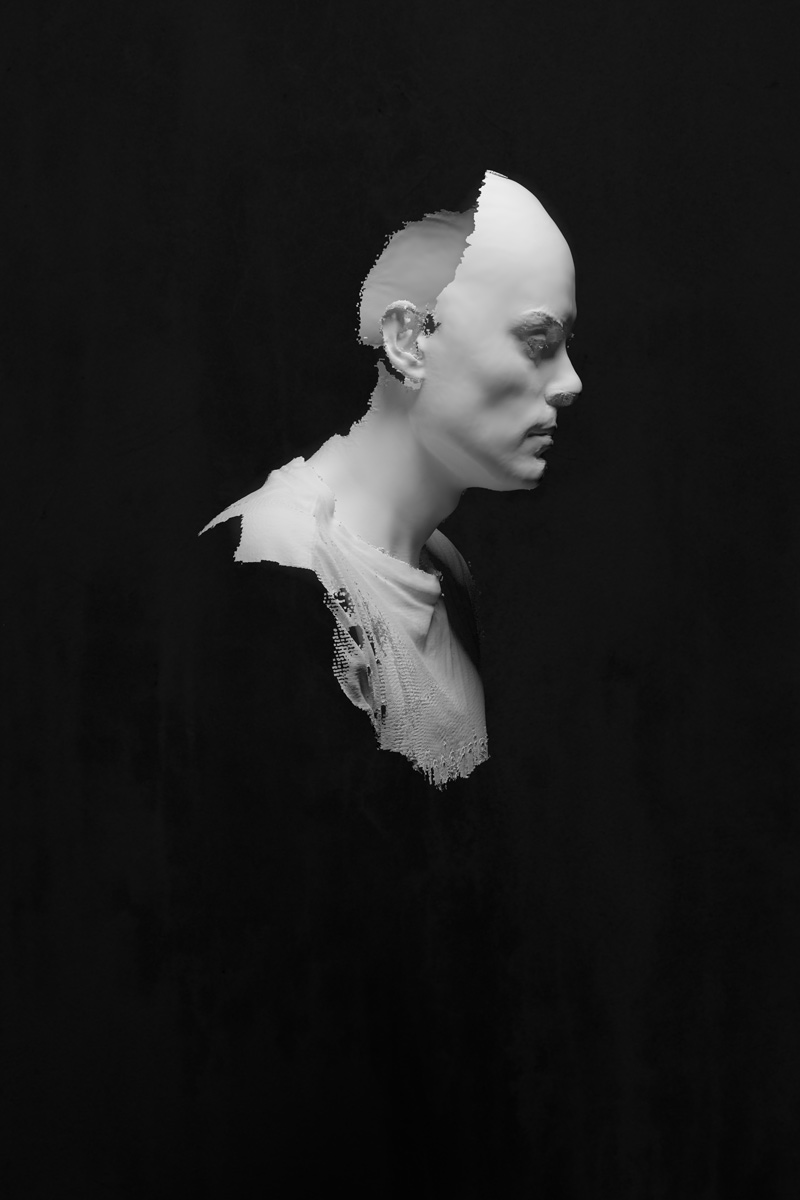 3D self-portrait
.
2011. 3D CG image.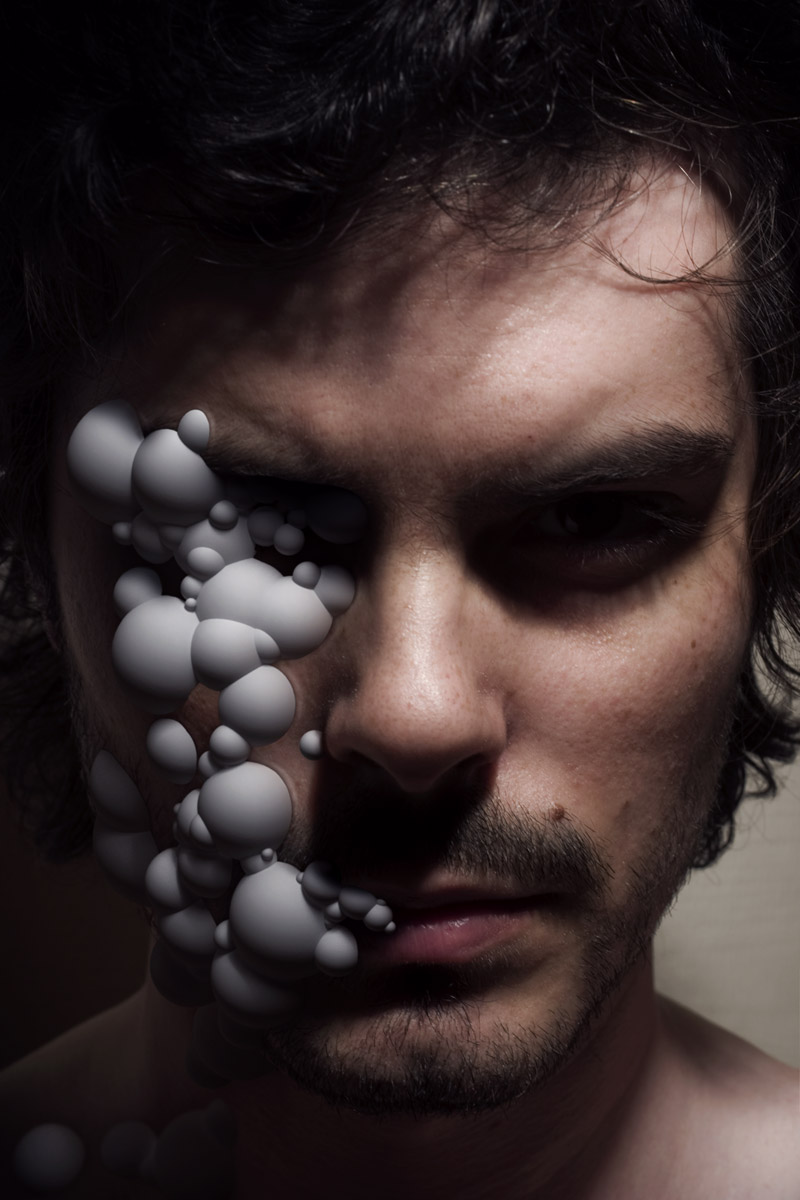 Self-portrait with spheres. 2008. Photo and 3D CG image in 20 cm x 30 cm format.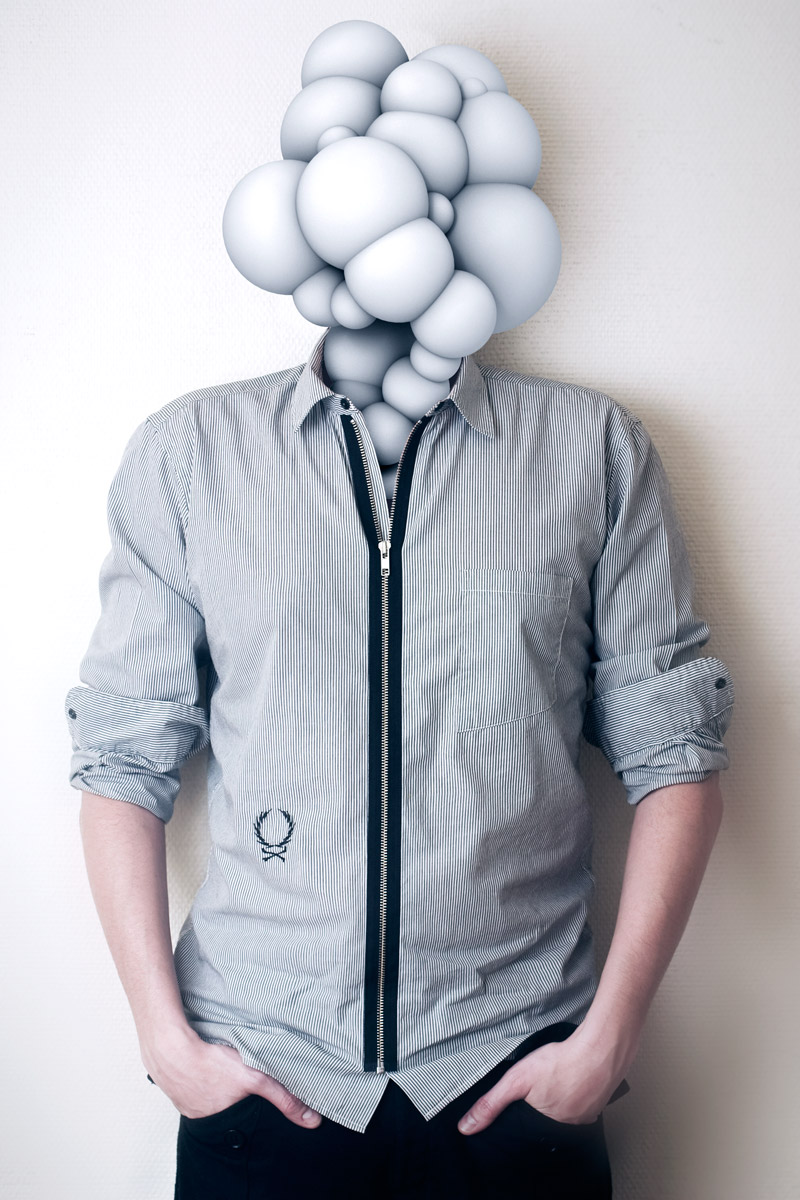 Self-portrait with spheres. 2008. Photo and 3D CG image in 20 cm x 30 cm format.